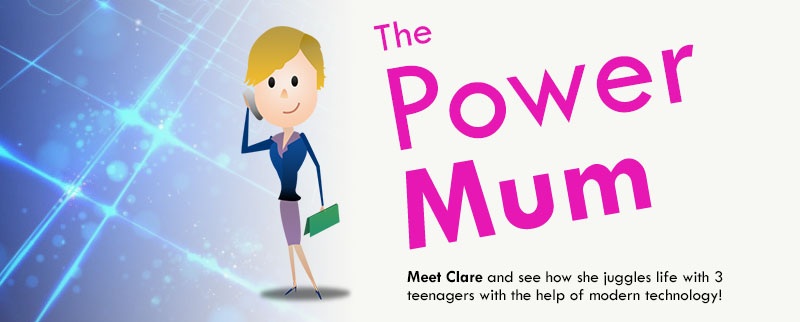 The Working Mum: The Career Driven Power Mum
As we approach #Mother'sDay, we thought we'd ask the mums in the Euroffice team how they manage their work life and family life. We all know that trying to get the right work / life balance can be difficult and I'm sure many of us are guilty of sending the odd late night work email or perhaps struggle to fully switch off when we're on holiday.
So we spoke to 3 mums and asked is it really possible to manage hectic work and family schedules?
Our first mum, Emma has recently returned to work after having beautiful bouncing boy Theo; second mum Clare juggles a busy work life and looking after 3 teens at home and finally we speak to Tracey whose kids have flown the nest and have started families of their own.
In the second in a series of three blogs, we speak to Clare and ask how she manages her hectic work life, the family's busy schedules and fits in family time.
The Career Driven Power Mum
"Having 3 teenage kids, a husband and a successful career can be really hard to manage!"
In my household the whole family sits down together and we make a list of what everyone needs to do and a separate list of what everyone would like to do. That way you can ensure that essential jobs and tasks are completed and if there's time left over then you can fit in the 'would like to dos'.
Making the most of technology
"My husband and I share an email address and we sync the calendars on our mobiles so we are always up date with each other's schedules and the schedules of the kids". It's the easiest way to plan everyone's life. Due to the nature of my husband's work, his diary often changes at the last minute, so syncing are calendars means I'm always in the know.
We also use the 'go Henry' app which is a family banking tool designed to help children and teens to learn how to look after money. It's a pre-paid debit card with parental control. My children have separate accounts on the app and I can add a list of chores and tasks for their 'pocket money'. Once the task has been completed the money is deducted from my account and added to their debit card.
I've found it really useful because not only does it help distribute chores, it means that they can't blow all their money after school when I'm not around because I can control their daily spending limit.
It can be really hard to get the right work / life balance and there's never a great time to take time off but you can't let that affect your right to have a holiday! You need to have a break to relax and also spend some quality time as a family.
So I'd say don't compromise on that break away from work. You don't have to go abroad, there are some great things to do around the UK for fun family days out. But however you choose to spend your break, don't bring the office with you! Switch off your email notifications and switch off work mode. You'll benefit, your family will benefit and your work will benefit from a little distance.
I've always tried to make sure my kids are in the know when it comes to my work. I don't want them to feel excluded or feel I have another life that they don't know or understand. So I always talk them about my day and what I'm working on, and they talk to me about their day and what's going on in their lives.
It makes us feel connected and close.
One thing that I'd really like to share with any working mums, is don't be afraid to ask your employer about flexi time. Legally all employees have the right to request flexible working hours including parents and carers. I found flexi time has been a god send! It means that I can attend parent's evenings, school plays and recitals etc.
For me technology is the key to helping me manage my work life and family life. There are some great handy apps which I couldn't live without! But remember to put the technology away when you're spending quality time with your family.
My top  items items for the 'Career Driven Mum' are:
Number 1, my Filofax organiser. It's always attached to me! I use it for everything – work, my family, the kids and both mine and my husbands schedules. I'm so busy, so it's so handy to organise my daily life
Next up are Post-its index tabs. They're all over my filofax! Because they are repositionable, it means I can move them as and when my diary changes (which is quite often!)
And last but most certainly not least, I couldn't do without my erasable Frixion Pen. As my schedule is so hectic and prone to changes last minute I'm constantly changing writing and erasing and re-writing! This is  by far the best pen for me.
Also read:
Part 3 of the series "The Working Mum: The Kids Have Flown The Nest Mum"
Part 1 of the series "The Working Mum: "The Newly Back To Work Mum"