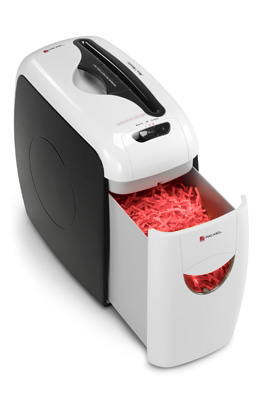 Can a shredder be stylish?
After reading an article on TheMotleyFool.co.uk discussing the rise of identity fraud (costing Britain £1.7 billion a year and directly affecting 6 million Brits), I realised I wasn't doing enough to protect myself!
So in earnest I decided I would get shredding those old bank and credit card statements that were stuck at the back of my drawer – only to find my shredder had given up the ghost!
I shouldn't have been too surprised, I hadn't given it any TLC and ironically it had been hiding away under a heap of paperwork gathering dust. At £15 'on offer' at my local supermarket it was probably to be expected?
So taking things a little more seriously I felt I needed to do a bit of investigating to understand what sort of shredders were out there, what they do, and which one would best suit me for my home office.
I have to say I was surprised at the variety of shredders available, brands such as Fellowes and Rexel had wide ranges catering for the home, right up to big business.
Entry level shredders (for the home and home office) catered for what they call "low level – general paper & everyday documents". These shredders typically used a strip cut which turns your paper into what looks like spaghetti.
The higher spec machines tended to use a cross cut mechanism. This cuts the paper into what resembles confetti, offering greater security and much less bulk when disposing of it.
Some shredders can also shred multimedia CDs DVDs and credit cards. There are also products out there specifically designed to keep your shredder running smoothly, much the same as your car, in the form of oil sachets to keep the blades sharp.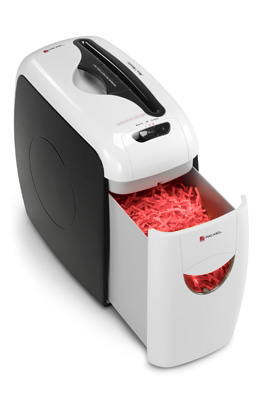 There had been a lot to take in. However I felt sadly glib at the new knowledge I had acquired on my quest. After some reflection (having gained what one could call over-sufficient knowledge), I made the decision to purchase the Rexel StylePlus Shredder.
Not only does it look very stylish (no dust will rest on this one), it packs a mean shredding punch too. Boasting cross cut, it gives me greater reassurance on my more sensitive documents. It also has the power to shred credit cards and has a neat little alert when it needs to be emptied.
At just over £70, it represents an investment (more than my £15 machine). However that could be a small price to pay if you were to get caught out by the fraudsters and, importantly, it works really well every time.
Next time I'm in the pub and I hear someone talking about shredders (it happens in the pubs I go to!), I am going to earn myself a pint and give them the lowdown – shredders can be stylish…